Ha Tinh, Quang Binh, Quang Tri and Thua Thien-Hue reported room capacity reaching 60-95 percent. Beaches have been crowded with holidaymakers.

Statistics from the four provinces show that the high increase of visitors has created jobs for 40,000 people comprising 4,000 from Quang Binh.

At the same time last year, the 250 kilometers beach in the region was gloomy without visitors, restaurants were unsalable, staff of tourist firms, restaurants and hotels quitted because of the mass fish death caused by Taiwanese Formosa steel company.

This year, tens of thousands of domestic and foreign visitors from Laos, Thailand and Taiwan (China) have streamed to coastal tourist destinations to swim in the sea and enjoy fresh seafood.
Nhat Le, Bao Ninh, Da Nhay and Hai Ninh beaches in Quang Binh have been animated with swimmers.
Mr. Tran Hoa from Hanoi said that at fist he did not choose Quang Binh, afraid of the environmental accident. He changed his mind after carefully learning about water quality on the media and took his family and relatives totaling 30 people to Nhat Le beach.
Quang Binh has seen a rocket of visitors to Kong: Skull Island film studio, Yen Phu lake and Tu Lan cave system. Other large caves such as Thien Duong, Phong Nha, Tien Son, Toi and Nuoc Mooc also draw streams of visitors in the last couple of days.
Many hotels in the province has reported room capacity exceed 95 percent.

The provincial Tourist Department said that the increasing return of visitors has not only created jobs for people directly working in the tourist industry but also indirect employments for local cake and soft noodle producers; seafood, vegetable farmers; beverage and food traders; motobike taxi drivers; bamboo toothpick made by the blind; breeders and fishermen from rural areas.

Cua Viet beach in Quang Tri province and Lang Co beach in Thua Thien-Hue have also been crowded with holidaymakers.
The owner of Lang Chai seafood restaurant in Lang Co said that it received from 500-700 guests a day.
Mr. Hoang Xuan Huong, head of the management board of Thien Cam tourist site in Ha Tinh province, said that hotels comprising Song La, Thien Y and Tre Nguon were nearly out of rooms. Other hotels reported room capacity topping 60 percent.
Deputy director of Thua Thien-Hue's Department of Tourism Nguyen Van Phuc said that about 112,500 travelers have booked rooms during the holidays. The capacity of three star hotels and higher grade facilities reached 70 percent on average and over 95 percent on two main holidays April 30 and May 1.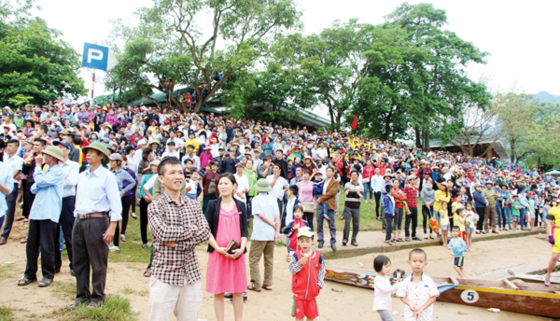 Visitors at Phong Nha-Ke Bang national park, Quang Binh (Photo: SGGP)