The Ho Chi Minh City Tourism Department reported that the city has received nearly three million of international visitors so far, an increase over 14 percent in comparison with the same period of last year and reached nearly 50 percent as of this year's plan.
In the first seven months of the year, total turnover was estimated nearly VND 54,000 billion, increased over 12 percent in comparison with the same period of 2016.
Last year, Ho Chi Minh City was listed top 25 most tourism destinations in Asia, top 100 most destinations for international tourists, top 20 cities having the world's highest tourist growth; and ranked the 2nd among ten the most attractive cities for single tourist.
The city's tourist industry has set a target to receive 11 million of international tourists by 2020.
In order to attract more and more tourists, the city recently has launched new tourist products as performing arts street, traditional medicines street, and in the upcoming time, the city will launch international marathon festival, colorful lighting performance..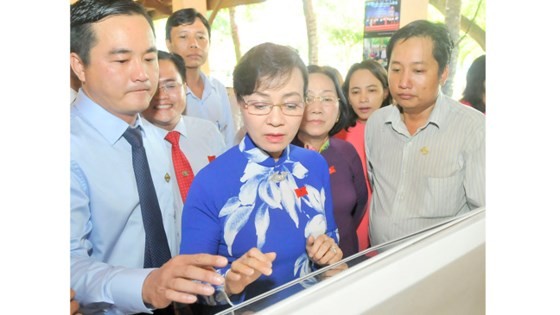 Chairwoman of the Ho Chi Minh City People's Council Nguyen Thi Quyet Tam accesses tourism information portal

Speaking at the meeting, Deputy Secretary of the Ho Chi Minh City Party Committee Nguyen Thi Quyet Tam affirmed that the city tourism industry actively had contributed into the development of the city during previous times adding that the HCMC Tourism Department and relevant agencies need to exploit and attract more potential customers and high-class tourism products highlighting culture and character of the southern people.
Ms. Quyet Tam required that departments, units and local people actively co-joined in creating safe, friendly and attractive tourism environment.