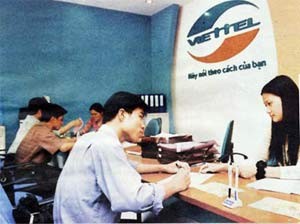 Viettel's post-paid subscribers now do not have to make monthly payments at counters thanks to the new service. (Photo:TK)
Viettel Mobile launched a new pre-payment option for post-paid subscribers Wednesday, a convenient way to limit customers' time-dependency.
Instead of making monthly payments at Viettel Mobile's counters as usual, post-paid subscribers to the military-owned service provider now can buy prepaid cards to enjoy the service and make payments whenever they want.
Once a card is purchased for a certain amount of money (VND50,000-VND500,000), the user can stop the pre-paid service any time by dialing 199 and the balance will added to the subscriber's account for later deduction.
According to Mr. Tong Viet Trung, Director of Viettel Mobile, this is the first service of its kind ever launched in Viet Nam.
Subscribers who regularly travel to areas where there are not Viettel Mobile's counters or those who can not visit them for other reasons will be the new service's greatest beneficiaries.