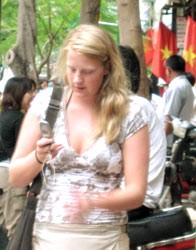 HCD allows foreigners to use international telephone at their countries' fee rate (Photo: TC)
According to the Viet Nam Posts & Telecommunications Group (VNPT), the Home Country Direct (HCD) service will have a new route to Taiwan.
HCD is an international telephone service that allows foreign customers in Viet Nam to call directly back to their country's switchboards. The call fee can be paid through banking accounts, credit cards or telephone cards in accordance to the calling fee of the customers' home countries.
This service also allows travelers to be able to use international telephone services at their countries' fee rate while staying in Viet Nam and using domestic payment cards.
Earlier, VNPT had cooperated with AT&T to provide this service to the US from May 2002. HCD has also provided service to New Zealand with TNZL partner since July 2005. Now, this service is applied to Taiwan with the CHT-I partner's support.
All the wired telephone subscriptions, public telephones and telephone booths using phone cards will be able to take advantage of the service.