Due to the impact of the typhoon, the sea areas from Thai Binh province to Thanh Hoa experienced strong winds at level 6. The northern and north central region saw torrential rains from yesterday until this morning. Total rainfall was measured at 50 mm to 190 mm.

At 6am, typhoon Bebinca centered at 19.8 degrees north latitude; 105.8 degrees east longitude alongside the sea areas of Thanh Hoa province. The strongest wind speeds near its center was level 6 to 7 at 40 km to 60 km per hour.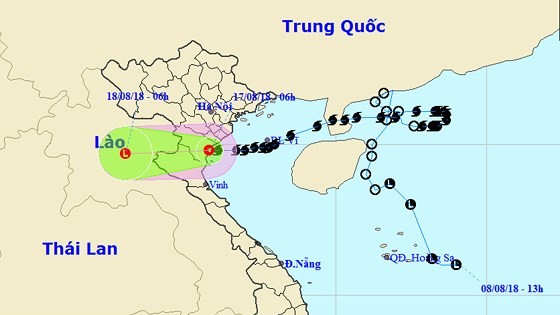 NCHMF Photo
In the next 24 hours, a tropical low-pressure is forecast to move west at a speed of 10km per hour then weaken into low-pressure system in upper Lao.
On August 18, low-pressure system will center at 19.7 degrees north latitude -103.0 degrees east longitude. The strongest wind speeds will reach at 40km per hour (level 6).
The center warned torrential rains will hit the northern delta and provinces of Hoa Binh, Son La, Thanh Hoa, nghe An tonight and tomorrow.
The rainfall is expected to reach at 50mm to 150mm.