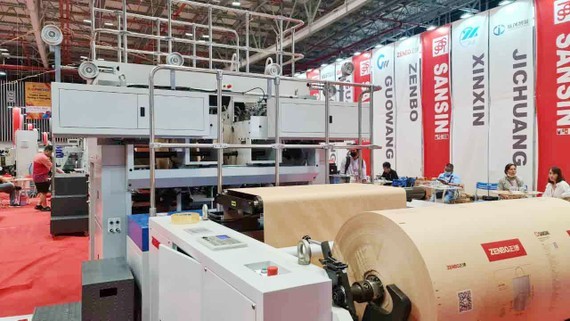 Printing companies invest more in machines
According to data for 2021 from the Department of Publication, Printing and Distribution, among 2,309 printing establishments licensed to operate, the southern metropolis is a place where 625 printing establishments are located. In 2021, the printing industry in Ho Chi Minh City alone accounted for more than 50 percent of the printing industry's total revenue of more than US$5 billion.
Ngo Anh Tuan, Vice Chairman of Vietnam Printing Association, Chairman of Ho Chi Minh City Printing Association, said that in the context of the current industrial revolution 4.0, the printing industry in general and the printing industry of Ho Chi Minh City, in particular, are facing many opportunities and challenges. The development of indicators on digital transformation, consumption level as well as in foreign investment in Vietnam is the impetus for the industry's growth.
According to Mr. Ngo Anh Tuan, Vietnam is on track to become a logistics center, then it is imperative to have the infrastructure to pack goods which has necessarily labels; so if domestic printing companies do not quickly catch up with market demand, foreign enterprises will dominate this important market.
One of the strategies to help the city's printing industry grasp the current golden opportunity is to bring businesses into industrial zones to form large printing clusters. He disclosed that the industry will form a separate printing industrial park with new investors with the same guidelines and policies of the leaders of Ho Chi Minh City. An equally important strategy is to improve the capacity of HCMC printing industry units, especially in the context of digital transformation.
Over the past time, the Ministry of Information and Communications, the Department of Information and Communications, and the Ho Chi Minh City Printing Association have had activities to help printing businesses realize the importance of digital transformation in reducing production costs, and improving the efficiency of marketing and trade promotion to customers.
According to Mr. Nguyen Thai Linh, Vice President of Ho Chi Minh City Printing Association, deep and wide digital technology has created a huge change in society. He added that however, small and medium enterprises are currently not interested in digital transformation.
Mr. Lu Nghia An, Viet Style Trading Service Company, said that human resources for digital transformation require a higher level of thinking than normal printing techniques. Accordingly, training of human resources must be focused on providing a highly-skilled workforce to meet the needs of the market.