The amount of clean water being lost through leakages in Hanoi and Ho Chi Minh City is up to 40 percent, while the national average is lower at 33 percent, Nguyen Ton, chairman of Vietnam Water Supply and Sewerage Association (VWSA), said June 19.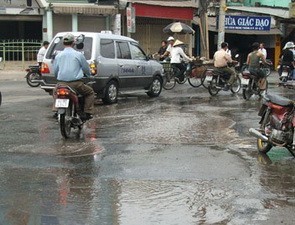 Water leaks from broken pipes in a street in HCMC (Photo: Vietnamnet)
Speaking at a seminar held by VWSA and Saigon Water Corporation (Sawaco) in Ho Chi Minh City to discuss solutions to limit losses, Mr Ton said that developed countries lose, on average, 15 percent of their clean water, and Southeast Asian countries lose 20 to 30 percent.
HCMC's clean water demand makes up one third of the country's total, using up over 1.2 million cubic meters of water a day.
 
The large loss of clean water in both HCMC and Hanoi is largely down to the old pipe system.
Some 30 percent of pipes have been used for over 30 years, with many pipes and connections too old and corroded.
Construction of underground works has also led to some water pipes being broken.
Moreover, some people steal fresh water by drilling water mains and install their own pipes to take water.
The general director of Sawaco, Tran Dinh Phu, said that from now to 2015, HCMC needs over VND9 trillion (US$506 million) to modernize the pipe system.