Prime Minister Turnbull said "Vietnamese food is enjoyed every day by Australians, which is just one of the many positive contributions of the nearly 300,000 Vietnamese who call Australia home. But this is the first time I've ever tried bánh mì! I love the fresh flavours of Vietnamese food."
Turnbull also said it was fantastic to see Australian agricultural exports featured in such iconic Vietnamese dishes.
"Việt Nam is Australia's second largest export market for wheat and beef - wheat is predominantly used to make wheat noodles, and the majority of bánh mì that Vietnamese enjoy everyday," he said.
Việt Nam also imports Australian malt and barley for its growing beer industry. In 2016, Việt Nam imported AU$446.2 million of wheat, AU$94.9 million of barley, and AU$37.5 million of beef and veal from Australia.
Australian-Vietnamese celebrity chef Luke Nguyen is pleased that Vietnamese people increasingly have the opportunity to enjoy Australia's premium food and beverages. "As the Taste of Australia Ambassador in Việt Nam, I'm excited to work with the Australian Government to bring more high-quality Australian food and beverages, including our famed beef, wine, wheat and dairy, to Việt Nam," he said.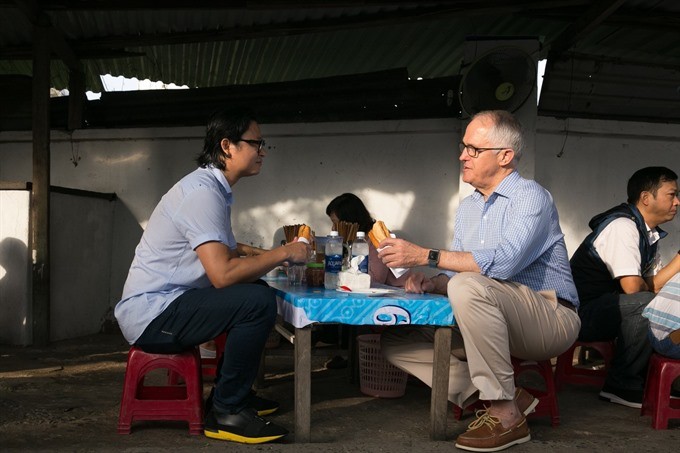 Australian PM Malcolm Turnbull shared a bánh mì breakfast with Australian-Vietnamese celebrity chef Luke Nguyen at a local street food restaurant in Đà Nẵng. — Photos: Australian Embassy