A printing company in the Mekong delta city of Can Tho has been found discharging untreated effluents into the Hau River through a hidden drainage system.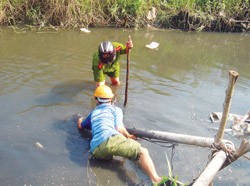 Environmental police detect hidden drainage system which let out untreated waste water into the Hau River (Photo:TNO)
Environmental police on Tuesday found that Tan Hung Commercial Company Ltd. in the Cai Son-Hang Bang Industrial Zone was letting out untreated wastewater containing printing chemicals into nearby streams.
The company also had a hidden drainage system to discharge effluents into the Hau River.
Tan Hung Printing Company began operations in 2000 but had not installed appropriate drainage systems or treatment facilities to date.
Police have taken wastewater samples for testing before deciding on the penalty to be imposed on the company.
Meanwhile, the Tay Do Leather Company in Binh Thuy District, also in Can Tho city, has been asked to destroy its hidden wastewater drainage system which has been dumping toxic effluents into the Hau River; and to take clean up measures.