Prime Minister Nguyen Tan Dung will chair a series of meetings to address public concerns about last month's violent protests against the repossession of public land leased to residents in Tien Lang District in Hai Phong City, from Feb. 6-10.
The protest began when 49-year-old farmer Doan Van Vuon refused to comply with Hai Phong authorities and organized his family members to pick up arms to shoot at six police officers who had gone to his house to forcefully take possession of his land.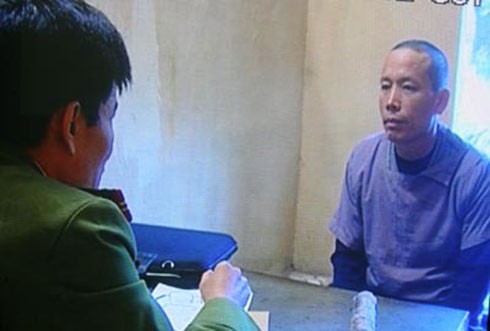 Doan Van Vuon is being interrogated by police. (Photo:VNExpress)
In preparation for the meeting, Deputy Prime Minister Nguyen Xuan Phuc has requested the Government Inspectorate, the ministries of Natural Resources and Environment, Public Security, Agriculture and Rural Development, and Justice to review the case and prepare the best options to resolve this problem.
The chairman of the Hai Phong City People's Committee has also been requested to compile a detailed report of the case.
Vice PM Phuc has asked the Vietnam Fatherland Front Central Committee, the Supreme People's Court, the Supreme Procuracy and the Vietnam Farmers' Association to also voice their opinion.
According to lawyer Le Duc Tiet, opinion surveys showed that there were two points of view that were absolutely contrary to the case: one pro authorities and the other pro Vuon.
The Hai Phong authorities have argued that the decision to repossess the land was totally in accordance with the law and that Vuon's protest amounted to criminal activity.
Meanwhile, local residents support Vuon, saying that Vuon had invested much money and labour to make the land fertile from a once barren spot. Today it was a productive agricultural farm which bred aquatic creatures.
During the harsh years when he was reclaiming the virgin land, Vuon's niece and son had drowned in the marsh. Vuon had also just borrowed VND10 billion to improve the land, but now the land had been confiscated before he and his family could get back a single penny.
As per reports, Vuon and his family members shot and injured six police officers on January 5, who were executing orders of the Tien Lang District authorities to repossess 40 hectares of public land leased to Vuon's family.
The land had been marked for an airport project. The local authorities had allotted the land to Vuon's family in 1993 and the term had expired in 2007 when Vuon had to return the land.
But Vuon did not agree to the repossession since under the Law on Land that took effect on October 15, 1993, the duration of land allocation is 20 years, not 14 years, as stated by the authorities.
After the violent resistance against authorities, Vuon and three other members of his family were arrested and charged with attempt to murder; while 2 other members, including Vuon's wife, were indicted for resisting law enforcement officers, but subsequently let out on bail.