Ho Chi Minh City Party's Committee and People's Committee on Tuesday met with a group of foreign experts from Japan, Europe, Malaysia and Taiwan (China) to listen their experiences, suggestions and anti-flood solutions for the city.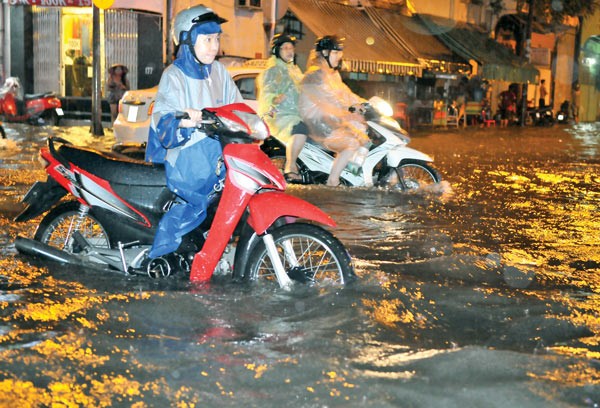 Many streets have been submerged under floodwaters after heavy rains in HCMC (Photo: SGGP)
The experts said that HCMC flooding has reached red alarming level especially after heavy rains in early September.
New technologies should be applied to upgrade the drainage system and build infrastructure for anti-flooding works, they proposed.
At first, the city should resurvey all anti-flooding solutions that have been implemented to get exact data before mapping out new and up-to-date projects and supplementing better measures for the purpose.
The experts said they would assist the city with ideas for reference, help train human resources, and carry out new solutions.
According to the HCMC Steering Center for Urban Flood Control Program, the city will continue improving rainwater and wastewater drainage systems in accordance with its overall plan by 2020.
Under plan, the city will upgrade 1,856 kilometers of old sewers, dredge the existing drainage system and clear illegal construction works along canals to drain off rain and tidewater.
A total of 84 projects will be launched with a total capital of VND11,610 billion (US$516.30 million) in the 2016-2020 period to meet rainwater drainage demand.
HCMC is working the plan to start construction of six tide control culverts along large estuaries, 68 smaller sewers and seven kilometers of dykes along the right bank of Saigon River to solve flooding inner HCMC by the end of this year or next year, said  center director Nguyen Ngoc Cong.
Total costs for these works are estimated at VND9,850 billion (US$438 million), he added.
In addition, the city will build another two large tide control culverts Vam Thuat and Rach Nuoc, heighten low-lying streets and construct new irrigation reservoirs in attempts to absolutely tackle 31 flooded spots in center areas by next year.
HCMC Party's Committee Secretary Le Thanh Hai asked the People's Committee to instruct related agencies to review anti-flooding projects having been implemented, ensuring that they harmonize with the Prime Mimister approved plans.
The agencies should work with international experts to learn from their experiences to better anti-flooding measures, Mr.Hai concluded.