Mr. Mahn Win Khaing Than, who is also chairman of the upper house of the Myanmar Parliament, was leading the delegation to attend the Inter-Parliamentary Union (IPU) conference on climate change opened in the city yesterday.

Welcoming the Myanmar's delegation and recalling memories during his two visits to Myanmar in the position of deputy Prime Minister and chairman of the Vietnam Fatherland Front Central Committee, Mr. Nhan said that Burmese citizens had given Vietnamese people lot of special feelings.
He affirmed that Vietnam and Myanmar have many similarities in geography, culture and beliefs. They are both members of ASEAN, celebrating the 50th anniversary of the bloc's founding and the 20thanniversary of the two countries' diplomatic relations this year.
Mr. Nhan introduced to the Burmese delegation HCMC's socioeconomic development, underlining education quality improvement and human resource programs.
He appreciated the developing cooperation relationship between HCMC and Myanmar. For the last six years, HCMC has organized Vietnamese goods fairs in Yangoon city. The fairs have contributed in boosting the two sides' export import turnover.
HCMC has also organized the annual International Travel Mart with the attendance of Myanmar.
The trade turnover between HCMC and Myanmar last year reached $124 million, up 18 percent over 2015. It hit $85 million in the first quarter this year, triple that during the same period last year.
According to Mr. Nguyen Thien Nhan, there is much cooperation potential between the two sides. He believed that their trade turnover will top $300 million this year.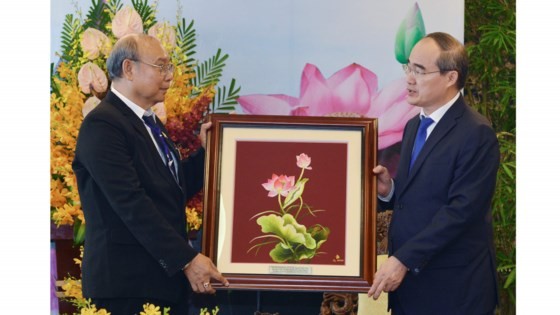 Mr. Nguyen Thien Nhan gives Mr. Mahn Win Khaing Than a souvenir (Photo: SGGP)
HCMC will further improve the quality of the Vietnamese goods fairs in Yangoon and thanked Myanmar's leaders for facilitating Vietnamese businesses' investment in the country, he said.
Myanmar's parliament chairman Mahn Win Khaing Than expressed honor to visit the city named after great president Ho Chi Minh of Vietnamese people, saying that Myanmar needs to learn from Vietnam's experiences in protecting and developing the country and appreciating human resource development programs by Vietnam and HCMC.