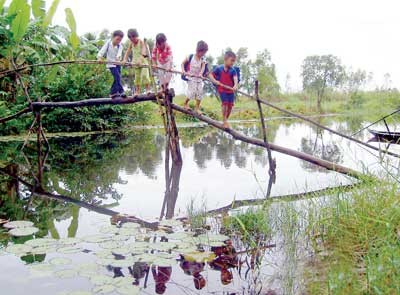 Young pupils walking across a rickety bridge to get to school(Photo; SGGP)
Although the Government has prioritized investment in education in the Mekong Delta region, the sector still lags behind other areas in the country. Poor facilities, the poor quality of teaching and young pupil finishing school too early are continual problems for education experts.
The rate of students leaving schools early is higher than that across the country.
According to a recent survey, there are several reasons for the problems, including the number of low-income families, poor academic abilities and a heavy curriculum, as well teachers allowing weak pupils into higher class who cannot catch up with the lessons. The distance of difficult-to-reach schools and distractions around schools, such as online computer game shops, have also been blamed.
For instance, Duc Tri High School in the Mekong Delta province of An Giang reported nine percent of learners leaving school in the middle of the school year in 2008-2009.
The school blamed a heavy curriculum and teachers having little time to review work.
Most early school leavers come from families that pay little attention to their children's schooling and students lack determination to pursue high education, as they need to support themselves and families instead. Moreover, teachers spend less time on lessons and deliver boring lectures.
In the disadvantaged region, parents are absorbed in eking out livings rather than their children's studies. For instance, 159 students, including 27 from a school in an isle in Hong Ngu District, in the southern province of Dong Thap, have been reported to leave school early because they go with their parents to remote areas to work in fields or in factories.
In addition, schoolers quit sometimes because the district has no facilities. In the waterway area, such Hong Ngu District, Dong Thap Province, it takes a long time for students to get to school.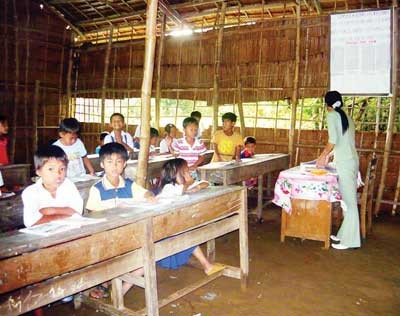 Poor facilities are also a problem in the Mekong Delta(Photo; SGGP)
For example, Kien Hai District in the Mekong Delta province of Kien Giang, with 23 islands, has only one school in the town of Hon Tre. Therefore, students on the islands of Nam Du and An Son need to be ferried to schools.
Nguyen Khai Hoang from Kien Hai's Party Central Committee's Commission for Propaganda and Education said, "Among 23 islands, only 14 islands have residents. Furthermore, a few households live on some islands. It costs a lot to open a school. Subsequently students will face difficulties in reaching schools."
Meantime, 400 students from disadvantaged families in Ca Mau Province have resigned themselves to staying at home because their families cannot afford ferry fees.
Educationalists are also worried over the phenomenon that students quit class due to distractions based around schools, such as playing computer games. Computer shops and other such game providers surround schools, seducing students to play truant.
In related news, the ministries of Education and Training, and Culture, Sport and Tourism, in coordination with the Communist Youth, Vietnam Women's Union and the Vietnam Study Promotion Association signed an agreement "To build friendly schools and active students."
The agreement includes keeping educational establishments clean, convincing leavers to come back to schools, provide books and food for disadvantaged children and improving teaching methods.