Legally speaking, a vintage building needs to be examined to be listed as a remnant site and put under rightful governmental protection, which is a long process.

As a result, 600 out of 1,300 vintage houses had been teared down before district-level permits for renovation could reach them, reported HCMC's Department of Planning and Architecture.
Explaining the situation, Deputy Manager of District 1 Urban Management Nguyen Phuoc Thanh said many proprietors of vintage mansions dismantle them as they are more interested in using the land for economic activities.
The renovation of historical and religious premises also faces multiple problems, the proprietors' materialistic mindset being one of them. If a premise is listed as a religious heritage, the owners cannot reconstruct them to their liking, said Deputy Head of Binh Thanh District Internal Affairs, Ta Dinh Du.
Legal roadblocks and financial difficulties are also hindering renovation attempts. For instance, Ngoc Hoang Pagoda in District 1, recognized as a national-level heritage, is required by law to be restored by qualified craftsmen, but they cannot be recruited given limited state budget. The building has been left deteriorating since 2013 as a result.

Despite all that, the city has been making progress in renovating heritage sites, such as the two national-level heritage site - President Ho Chi Minh memorial house or Le Van Duyet Mausoleum - and local historical structures like Cau Son and Binh Quoi Tay pagodas in Binh Thanh District.
Head of HCMC's Municipal People's Council Truong Trung Kien said the authorities must attempt to help proprietors of heritage sites understand that unauthorized construction will disrupt urban landscape and ruin the site's cultural identity.
In addition, district-level agencies should promptly report to the city's People's Council regarding the categorization of vintage sites to aid their restoration and renovation.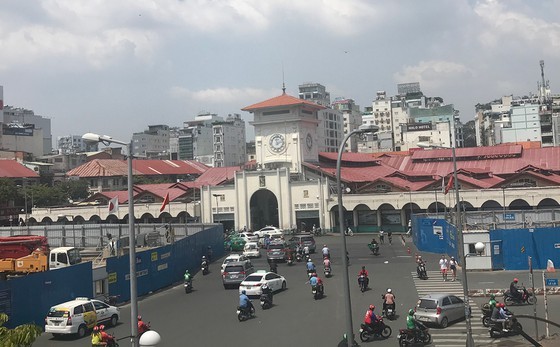 Ben Thanh market's tiled roof has been badly damaged and needs to be restored