For the firth time in Vietnam, eight world-class fashion brands of jewelry, handbags, watches and diamond for the elites and Hollywood superstars are presented at one boutique. It is ENIGMA. The owner is famous actress Ly Nha Ky.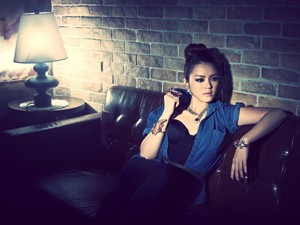 Ly Nha Ky
Prologue, de Grisogono, Roberto Coin, Paolo Piovan, Crivelli Gioielli, Graziella, Staurino, and Zydo are not "popular" names in the world of diamond but to the connoisseurs of the precious jewelry, the brands are proofs to the elites. The brands are always the top choice of the celebrities in the world such as France's First Lady Clara Bruni Sarkozy; Hollywood stars Demi Moore, Clémentine Célarié, Virginie Ledoyen; super models Naomi Campbell, Petra Nemcova; and famous singer Jennifer Lopez.
PAOLO PIOVAN: elegant, sophisticated
Designed patterns of the brand are elegant, classic, sophisticated and creative. These are necklaces with colorful diamond series like black and white, pink, yellow or a colorful ring made from sapphire. After shining more than 30 years, Paolo Piovan has conquered many in the elite celebrities.
GRAZIELLA: sculptural works

Graziella is a Graziella Group brand created by Ms. Graziella Boncompagni, who was famous for her love for fashion and diamond. Having been in the market for over 50 years, Graziella pursues its motto "Each product is a sculptural piece."
ROBERTO COIN: best wishes
Established in 1996, Roberto Coin had become the world's third most famous fashion brand and a leading one in Italy in five years. The brand includes ruby beads that have meaning of peace and health. It has become a unique signature for all jewels by Roberto Coin. The beads send a wish to those women who luckily own these exclusive products.
STAURINO: bright

Every piece made by Staurino shows respect and preservation of the beauty. It is simple, bright and quite more elegant. Staurino has always been the pride of the Italian jewelry industry over the past 20 years.
PROLOGUE: stylish

Prologue brings big surprises to customers thanks to a combination of colors. It uses precious stones combined with handicraft sculptural techniques to bring the soul into products.
CRIVELLI GIOIELLI: flat world

Coming from Italy as of 1970, Crivelli Gioielli can meet customer' demand from many places in the world with different cultures. In another word, Crivelli Gioielli is an ambassador for the "flat world".
DE GRISOGONO: black diamond
The De Grisogono symbol is black diamond. The rare beads sparkle with the pride that makes successful and connoisseurship ladies become elites.
ZYDO: elegance
The brand came from entrepreneur Davide Zybert's passion and intelligence on diamond and precious stones. He set a foothold for his brand in the elite world with elegant and modern collections for ladies.
Address of Enigma Boutique
Opera view, Quarter GA, 161 Dong Khoi Street, Ben Nghe Ward, District 1, HCM City (at 15 Le Loi Boulevard)
Tel: +84 8 3989 8989
Email: info@enigma.vn
Web: www.enigma.vn


A passion with art pieces, Ly Nha Ky has learned and negotiated to possess all the eight brands after Hong Kong, Macau and mainland China.
Enigma is officially launched on Nov. 27, 2011. In the evening of Nov. 27, Enigma celebrates "Enigma gala for charity fundraising" including item auctions to raise funds for projects in health care development, education, society such as eye and heart surgery for children, scholarships for poor children loving studying, and houses donated to the poor.
Ly Nha Ky pledges that 20% of turnover from Enigma in Vietnam will be used for charities and projects designed to promote Vietnam's tourism to the world.