Mr Le Thanh Liem, Standing Deputy Chairman of the Ho Chi Minh City People's Committee, Mr Dang Manh Trung, Standing Head of the Central Propaganda & Education Committee in the South, Mrs Nguyen Thi Thu Hoai Deputy Head of the Department of Propaganda & Education of HCMC Party Committee, Mr Nguyen Tan Phong, editor in chief of Sai Gon Giai Phong Newspaper, representatives of the departments of Industry and Trade and Tourism and winning businesses attended the event.

This is the fourteenth consecutive year that SGGP organizes the poll aiming to honor and encourage Vietnamese firms to build prestigious brands.
Started in 2006, the program established by SGGP and the City's Department of Tourism aimed to introduce qualified tourism agencies, hotels, restaurants, shopping malls and supermarkets to international visitors and local people. Fortunately, a few years later, the program has spread widely with cooperation of various associations and industries and become a special program of SGGP aiming to support and encourage Vietnamese enterprises to develop, increase competitiveness for Vietnamese products and especially build confidence about Vietnamese products among Vietnamese consumers.
This year, there are 27 enterprises in services, tourism, trade and real estate receiving the 'Most Favorite Vietnamese Brands in 2019' awards. The organizer has also given the award to some new industries, such as food processing and consumer goods manufacturing. In the context more and more long-standing Vietnamese brands were taken over via merge and acquisition or buy-in, Vietnamese brands which are still able to survive and thrive are deserved to be honored for their efforts.
Among 27 winning enterprises, 18 Vietnamese brands which have been voted for several consecutive years by readers were given an additional 'Golden Brand' award.
Noticeably, there were more real estate firms nominated for the award this year than previous years. However, after voting rounds the organizer decided to give the award to three real estate firms, consisting of Him Lam Land Trading Corporation, Khang Dien House Trading And Investment Joint Stock Company and Hung Thinh Corporation.
Three large food processing firms Nutifood, Vissan and Vinh Thanh Dat also received the award. Three supermarkets won the most favor of readers were Vinmart & Vinmart+, Co.opmart and BigC.
In tourism field, Saigontourist continued to be the leading brand with highest votes, followed by TST Tourist, Viettours, BenThanh Tourist and The He Tre Travel.
Bao Viet Holdings continued to be the most favorite Vietnamese brand in insurance field.
Vietnam Airlines topped the list of the safest carriers for 14 straight years.
SGGP's editor in chief, Mr Nguyen Tan Phong said at the ceremony that building Vietnamese brands is one of the most important tasks amid global integration. With bilateral agreement and free trade agreements having taken effect, it is essential for Vietnamese enterprises to grow strongly and advance farther in order to fortify their position locally and internationally. Especially, they have to win consumers' confidence and favor if they want to keep their home ground amid economic integration.
Mr Le Thanh Liem said that many winning brands were the businesses which have collaborated with the city's government in price stabilization program for many years. Through association activities, they have brought high quality Vietnamese products to consumers across the country. Many enterprises in real estate, services, tourism and trade have made great contribution to the city's economic development. The city's Government highly appreciated the role and importance of local businesses. The 'Most Favorite Vietnamese Brands' award not only showed the recognition for local enterprises' efforts and contribution but also honored and encourage them to have constructive activities for the country's development.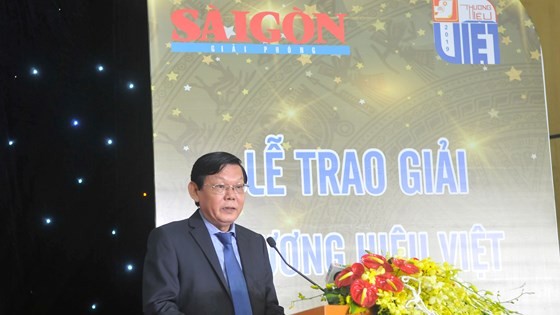 SGGP's editor in chief Nguyen Tan Phong speaks at the ceremony. (Photo: SGGP)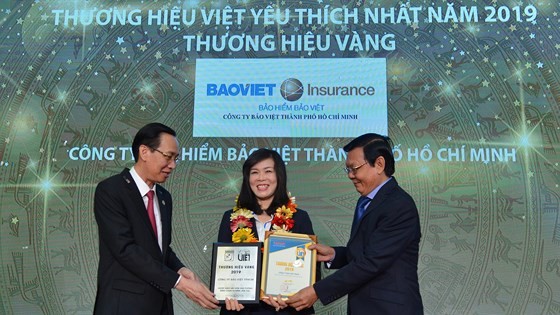 Standing Deputy Chairman of the Ho Chi Minh City People's Committee Le Thanh Liem and SGGP's editor in chief Nguyen Tan Phong give the Golden Brand Awards to the representative of Bao Viet Insurance. (Photo: SGGP)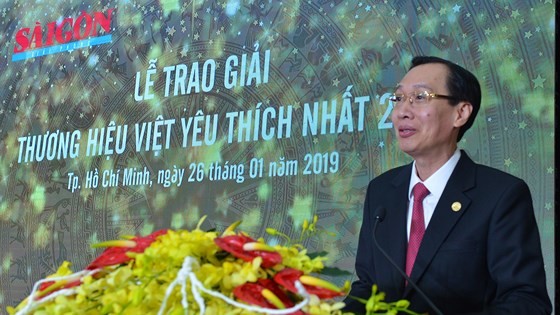 Standing Deputy Chairman of the Ho Chi Minh City People's Committee Le Thanh Liem delivers a speech at the ceremony (Photo: SGGP)