The Tourism Department of Ho Chi Minh City (HCMC), the Tourism Ministry of Cambodia and the Lao National Administration of Tourism have agreed to jointly organize International Travel Expo-Ho Chi Minh City 2007 (ITE-HCMC 2007), themed "Three countries, one destination", in HCMC, said Deputy Director of the Department La Quoc Khanh at the closing ceremony of ITE-HCMC 2006 on August 6.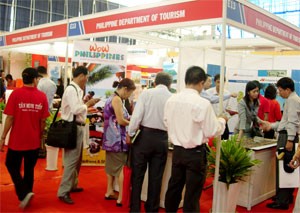 Thousands of people visit the ITE-HCMC 2006 (Photo: KK).
The Expo 2007 will focus on three main issues: making a common kiosk of the three countries; organizing a seminar to introduce Indochina adventure tourism programs by land, sea and air; and publicizing the cultural values of the three countries.
 
The three sides will report plans to their governments to be able to hold the Expo as scheduled in October 2007.
 
With a wish to promote tourism outside the region, the organizing board hopes the ITE-HCMC 2007 will be able to attract visitors from such potential tourist markets as the U.S., Europe, Australia, Japan and the Republic of Korea to HCMC and to the countries around the Indochinese area. 
 
For three days, ITE-HCMC 2006 attracted about 10,000 visitors. Especially, there were over 1,000 meetings and business promotions among 71 international tourism agencies and 140 companies, aiming to seek cooperation opportunities as well as introduce and promote their tourist services.
Related article:
International Travel Expo Ho Chi Minh 2006 Opens