The last few months of the year are often seen as the time of golden opportunities for the Meetings, Incentives, Conferences and Exhibitions (MICE) market. From October to year-end, orders for MICE tour services generally increase dramatically, this year, some 30% over last.
2007, a Boom Year for Viet Nam MICE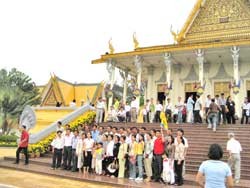 Fiditourist brings local visitors to Cambodia
According to Saigontourist Travel Service Co., 2007 has been a boom year for the MICE market. Even in the low season, October and November, Saigontourist won several big MICE-tour contracts. In December alone, the company conducted 40 tours and served 5,655 visitors among which there was a group of 2,700.
Earlier, Saigontourist rocked the MICE market when, for the first time, it clean executed a Southeast Asian tour on a 5-star cruise ship for 800 professors and doctors of otolaryngology (branch of medicine that deals with the anatomy, function, and diseases of the ear, nose, and throat).

Next, a multinational group with 650 Europeans, Americans and Australians was hosted at the Caravelle and Sheraton Hotels. And soon there is to be a tour for Japanese athletes coming Vietnam for a marathon in Da Lat.
Tran Quoc Bao, Vice Chairman of Saigontourist's Inbound Tour Department, said favored local MICE-tour destinations are still Da Lat, Vung Tau, Nha Trang and Ha Noi.
To satisfy MICE tourists' increasing demands during Christmas and the solar New Year's Eve, Saigontourist has developed a program of myriad entertainment and events, including, for example, a beauty pageant for 2,700 spectators at a MICE function in Vung Tau.
As market heats up, Fiditour, another leading tour operator in Viet Nam, decided to open a separate department exclusively for MICE services. Apart from inbound tours, Fiditour held a tour serving more than 400 employees of Uni-Presidence Company to Cambodia.
Fiditour Deputy General Director Dang Trung Nghia believes the MICE market is notably more lucrative than more traditional tourism markets and is making it Fiditour's primary target market for the near term at least. In 2007, MICE tours accounted for 20% of Fiditour's clients.
Carnival Company Limited, another operator with a strong presence in high-end MICE tours, said they earn some 70-80% of their profits from MICE services.
A Healthy but Difficult Market to Crack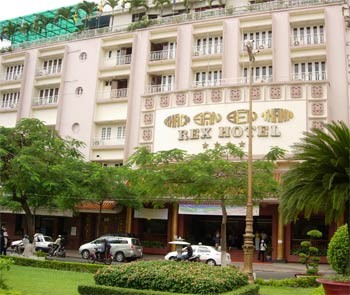 HCMC is thirsty for high-grade hotels.  (Rex hotel, Photo:KK)
Though the MICE market can be indubitably lucrative, providing a full, world-class range of MICE services is no mean feat. Competition is stiff.
To win the MICE conference tour for the Otolaryngology Association (above), Saigontourist's director had to negotiate directly with clients himself, preparations for the event took a full year to complete and Saigontourist had to launch an official website for the event.
Prior to sending the 400 Uni-Presidence employees to Cambodia, Fiditour had to go visit the nation three times itself to monitor and manage the project's various tasks. Since infrastructure and service quality in Cambodia is relatively low, Fiditour had to take over many of the tasks assigned to its Cambodian partners to ensure their successful completion within schedules, said Fiditour Customer Services and Tour Quality Department Manager Tran Bao Thu.
A shortage of premium hotel rooms in Indochina remains an ongoing problem still dogging MICE tour operators as well. Quality travel service companies here often find themselves having to decline contracts due to insufficient hotel vacancies.
Ben Thanh International Travel Tourist's Nguyen Minh Quyen said 5-star hotels are now constantly operating at over 80% occupancy rates even in low season, an unfortunate fact which has forced local MICE operators to resort to providing services in Singapore or Thailand.