Wushu is being considered one of the first disciplines to be played at the 27th Sea Games in main categories of Taolu, Tai Chi Chuan, Swordsmanship and Sanshou, which will take place on December 7.
According to the coach, all Vietnamese wushu athletes are expected to win top medals on the first day of the competition.
Among the Vietnamese wushu athletes participating in the 27th Sea Games, three athletes are hoped to be won the first gold medals for Vietnam, namely Tran Xuan Hiep, Nguyen Manh Quyen in the Men's Tai Chi Chuan category, and Duong Thuy Vy in the Swordsmanship category.
The men's football match in Table B, Water Polo, and Chinlone will also take place on the same day.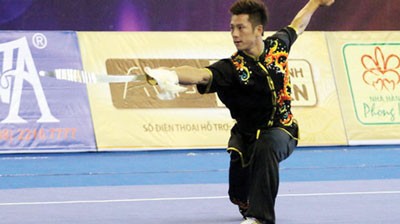 Athlete Tran Xuan Hiep is expected to win the first gold medal for Vietnam (Photo:SGGP)