Vietnamese martial artist Nguyen Thanh Tung brought home a gold medal on October 14 at the World Wushu Championship taking place in Turkey after he topped the men's non-fighting event Taijiquan with 9.68 points.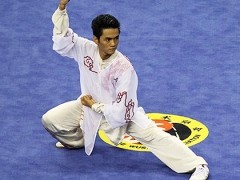 Martial artist Nguyen Thanh Tung (Photo:Tuoi Tre)
Yoshihiro Sekiya of Japan won silver medal with 9.62 points and Lee Jae-Hyung of South Korea took bronze with 9.58 points.
Martial artist Tung has ever taken a silver medal in the Guangzhou 's 16th Asian Games, China , last year.
So far, Vietnam has got one gold, silver and bronze medal each and is ranking sixth at the week-long tournament to wrap up on October 15 in Ankara City.
The world event has attracted 700 martial artists from 83 nations and territories.