Viet Nam earned three gold, four silver and seven bronze medals in the 9th World Wushu Championships (WWC), placing the nation third after China and Macau.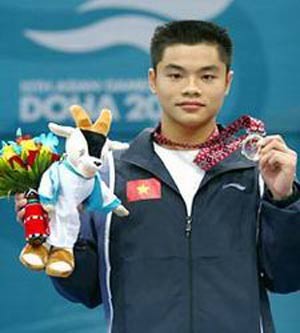 Vu Quoc Khanh with his gold medal

Viet Nam won gold in three events, Women's Sanshou 48kg class, Women's Sanshou 60kg and Men's Taolu Nandao (Southern Broad-Sword) at the World Wushu Championships 2007 in Beijing over November 11-17.

Early in the competitions, Vietnamese martial artist Vu Quoc Khanh beat Malaysian Pui Fook Chien in the Taolu-Men's Nando (Southern Broad-Sword) to pocket the first gold medal.

Saturday, Nguyen Thi Bich beat "Jennifer" of the Philippines 2-0 in the Women's Sanshou 40kg class, followed by Luong Thi Hoa over Iran's Zahra Karimi Vardanjani in the 60kg class.

Nguyen Tri Quan then grabbed silver after losing to Huseyin Donoar of Turkey.

At the end of the competition, the host took first place on the scoreboards with eighteen gold, nine silver and ten bronzes.

Macau secured second place three gold, five silvers and two bronzes, while Viet Nam ranked third with three golds, four silvers and seven bronzes.

The World Wushu Championships are held every two years and are organized by the International Wushu Federation (IWUF).

This year's international competition saw nearly 1,000 martial artists from 89 countries participating. Viet Nam sent 20 artists in the preparation for the upcoming Southeast Asian Games.