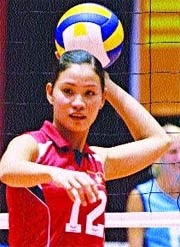 Dieu Chau, key player of Binh Dien Long An and Viet Nam's national squad
Hung Vuong Cup runner-up Binh Dien Long An will compete in the VTV Women's Volleyball Cup 2007 without Dieu Chau and Ngoc Hoa, who have been called up to the national squad.
Several players from the club's youth team will join Thu Phuong and Thu Sau to make up the numbers.
The 2007 VTV Women's Volleyball Cup will take place from May 12 to 20 at Phan Dinh Phung Stadium in Ho Chi Minh City.
Thailand's national youth team, the Philippines, Indonesia, Myanmar, Kazakhstan, Sri Lanka, Viet Nam, two clubs in China, one in Japan and a team of American students have entered the tournament.