Vietnam will start to defend their AFF Cup championship with a game against Myanmar at My Dinh Stadium in Hanoi on December 2. However, the football atmosphere at Vietnam's capital looks dull, giving the feeling that people here are shunning the event.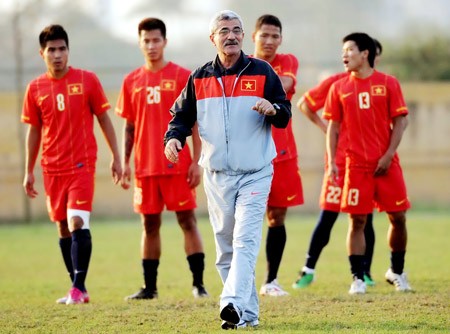 Vietnam's national team coach Henrique Calisto (middle) instructs players at a practice match (Photo: Bach Nhat)
A few banners showcasing logo, location and match dates of the AFF Cup 2010 are placed at some crossroads in Hanoi. They look like announcements on dates of V-League's common matches from My Dinh Stadium's organizers. That's it, uninterested at all.
Having known that I will come to Hanoi to report about the event, many friends of mine in Ho Chi Minh City asked me to buy tickets for them. They guessed "it's pretty hard to get one". But at the areas near My Dinh Stadium's ticket booths, sellers outnumbered buyers.
The number of seats in the stadium, which is up to 40,000, is unlikely to be filled up as the number of tickets sold didn't change much on December 1, one day before the match.
Among other games of Vietnam at the AFF Cup this year, sales of ticket for the game between the national team and Singapore are the highest. However, it still can't compare with the ticket fevers in the previous tournaments. Do Hanoi people get bored with football? Maybe not.
However, friendly game failures and the dull preparation of the national team for the AFF Cup this year cooled off fans so much.
I asked Huy Da, a friend who is a crazy football fan, whether he bought AFF Cup tickets. "No, I'm not interested. Now I just want to watch La Liga League," he replied.
I watched the national team practicing at the pitch of the Vietnam Football Federation in the cold weather on December 1. I have a feeling that the team's morale is very low, and players tried to keep a distance from the press, showing that they were under high pressure of the upcoming home games.
Contrast to Vietnam, practice matches of the other two visiting teams Singapore and Myanmar at My Dinh Stadium were comfortable and relaxed. I could even feel the high confidence of Myanmar's players, who will play against the national team in their first AFF Cup 2010 match on December 2.
Many reporters in Hanoi asked me how long I would stay. "I'll be here until the AFF Cup group stage finishes, and then let see what happen next," I replied. "I doubt that you could stay longer," some frankly said.
I was upset at that time. Is it true that the faith in the national team is that weak? I hope Vietnam will prove a contrast in their first AFF Cup 2010 with Myanmar on December 2 to touch cold hearts in Hanoi.