At 4am today, it was mapped at around 330 kilometers of the east southeastward of the Philippines's Palawan Island with a maximum wind near the center gusted 75- 100 kilometers an hour.
The tropical storm is expected to move the west- northwestward at a speed of 20-25 kilometers per hour, and strengthen powerfully within next 24 hours.
By tonight, it is estimated to pass through the southward of the Philippines' Palawan Island and enter the East Sea
In the morning of Sunday, its eye will be centered at around 430 kilometers of the eastward of the Spratly Islands with its powerful wind of 90- 115 kilometers an hour.
The dangerous zone will parallel at 6.0- 11.0 degrees north latitude and 114.0 degrees east longitude in the East Sea.
In next 24- 48 hours, Tembin will continue moving the westward at a speed of 20- 25 kilometers an hour, and is expected to develop into stronger.
By the morning of Monday, this year's the 16th tropical storm hitting the East Sea will be located at around 400- 500 kilometers of the eastward of the coastal provinces from Ba Ria- Vung Tau to Ca Mau. The strongest wind near the center could blow at 100- 135 kilometers an hour.
Its next position is forecast to hit the west- northwestward with a rapid speed of 20 kilometers per hour.
Amid to the unexpected weather condition, Ho Chi Minh City is ready for necessary measures to ensure safety about people and the property.
Tembin is heading fowards the East Sea, and is forecast to approach the southern region on December 25. The maximum wind near the center could gust up to level 14- 15 which will influence in the provinces and cities of the southern region and Ho Chi Minh City.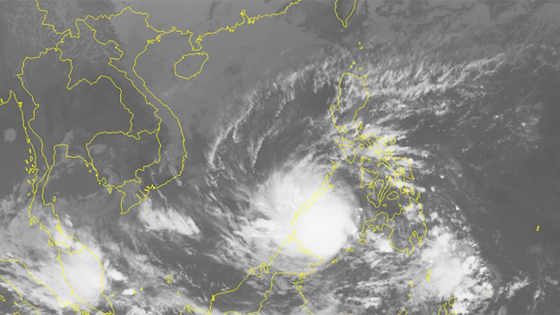 Tembin is posed from satellite
In order to actively deal with the super typhoon, the Ho Chi Minh City People's Committee asked the Border Guard High Command in collaboration with the People's Committee of Can Gio district and Department of Agriculture and Rural Development to carry out measures in order to ensure safety of people and fishing boats.
Additionally, the functional units needed to eye and timely provide position as well as information relating to the storm, call on fishing vessels in sea running out of the dangerous zone, keep in touch with captains and fishing- boat owners...
The HCMC People's Committee also required districts and cities to help local people in protecting their houses, constructions, dyke systems near the coastal areas; and take them to safe places.