Typhoon Nalgae was downgraded to a tropical depression by nightfall of October 4, after entering the southern areas off Hainan Island in China.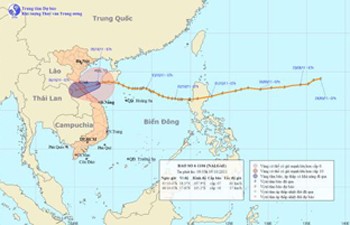 Nalgae weakens before moving into central Vietnam
According to the National Hydro Meteorological Forecasting Center, the depression was centered 18.3 degrees north latitude, 107.9 degrees east longitude and 160 kilometers east northeast of Nghe An-Quang Tri coastline by 7am on October 5. Wind speeds near the depression dropped to level 7 moving at 39-49 kilometers an hour.
The tropical depression is now expected to move west southwestward at 10-15 kilometers an hour and will continue to weaken into a low pressure zone.
By early morning of October 6, the depression will settle along the borders of China and Laos with wind speeds dropping to level 6 at 39 kilometers an hour.
Nalgae has influenced the weather conditions in the Central and Central Highland regions of Vietnam which saw torrential rainfall over the last three consecutive days.
Rainfall measured at 115mm in Dong Hoi City of Quang Binh Province, 104mm in Ninh Hoa District of Khanh Hoa Province and 89mm in Chau O District of Quang Ngai Province.
Heavy rainfall together with strong winds uprooted several trees and destroyed over 100 hectares of garlic and vegetables crops in Ly Son District of Quang Ngai Province on October 4.