Typhoon Sarika this morning overcame Luzon Island to enter the East Sea and become the seventh typhoon affecting Vietnam this year, reported the National Hydro Meteorological Center this morning, October 16.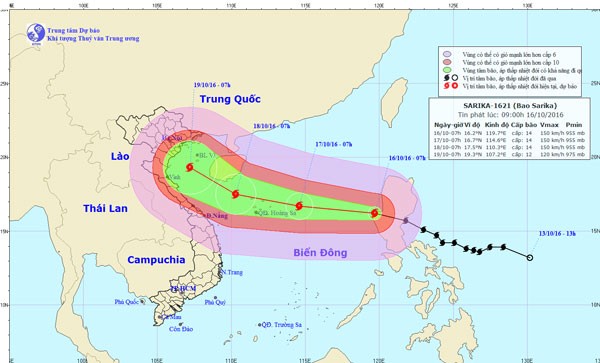 The direction of typhoon Sarika on the East Sea on October 16 (Photo: national weather bureau)
At 8a.m., the storm was positioned south of the island with the fury near the eye of it reaching level 14 to travel 150-156 kilometers an hour.
In the next 24 hours, the typhoon is forecast to move west northwest and might change direction to west afterwards at the speed of 20-25 kilometers an hour.
By 7a.m. on October 17, the center of the storm will locate 250 kilometers off Hoang Sa (Paracel) Islands with unchanged strength.
Another strong typhoon named Haima is expected to enter the East Sea next week.
According to the National Hydro Meteorological Forecasting Center, flood levels on rivers in Ha Tinh and Quang Binh has receded but been surging in Nghe An province because of torrential rains last night.
Rainfall will quickly reduce in provinces from Nghe An to Quang Binh today.
Deputy director of the center Le Thanh Hai said that the historic flooding ravaging the north central region for the last few days was not abnormal compared to many previous years. October and November are the traditional season of storms and floods in the central region.
In 2014 and 2015, El Nino phenomenon caused drought and no flooding surprising many people, he said.
Talking about the center's forecasting work of the flooding, director of the center Hoang Duc Cuong said that bulletins had been broadcast soon since October 13. The media had continuously been telling the heavy rains and flooding.