Minister of Transport Dinh La Thang on Friday called on officials and civil servants working in the transport industry to commute to work by bus in order to ease traffic congestion in Hanoi and Ho Chi Minh City.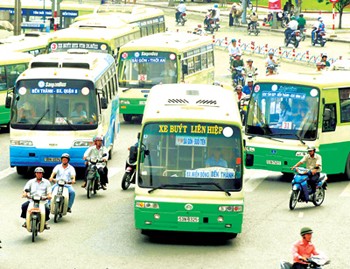 File photo shows buses in Ho Chi Minh City (Photo: SGGP)
He asked that each person should adopt the habit of commuting by bus within city limits, at least once a week.
Speaking at a press conference earlier, Minister Thang revealed that he had travelled by bus from his home to his office on two occasions and had found the bus service in Hanoi quite convenient as well as comfortable.
However, he said he has yet to try out the bus service during peak hours in the capital city.
In related news, the Korean International Cooperation Agency and the People's Committee of Ho Chi Minh City hosted a seminar on the same day on the bus rapid transit (BRT) project.
Officials speaking at the seminar said that the bus rapid transit project is necessary to convenience and enthuse more people to commute by bus instead of by private transport. This is important to reduce the traffic congestion in the city.
At present, the traffic infrastructure in HCMC is overloaded with about 5.3 million vehicles, of which nearly 500,000 are four wheel vehicles.