After suffering heavy damage due to drought, salt intrusion and lasting rains in the previous rice crops this year, farmers in the Mekong Delta have entered autumn winter crop hoping a better situation of income and living conditions but they faced with poor harvest and price drop.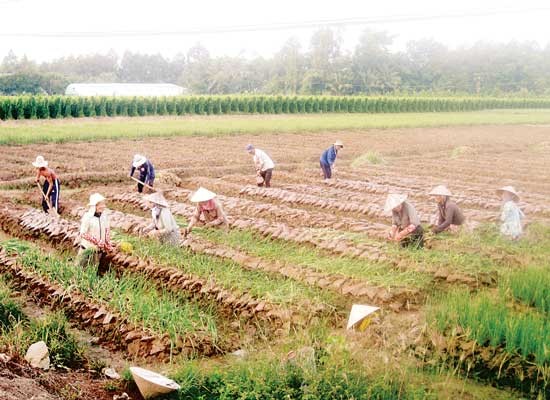 Thousands of low yielding rice hectares have been converted into other crops and increased farmers' income in the Mekong Delta (Photo: SGGP)
Ms. Le Thi Cam Giang from Vinh Thanh district, Can Tho City said that after unprofitable winter spring and summer autumn crops, her family continued experiencing output reduction because their rice fields have been ravaged with rats, insects and diseases.
Output has reduced from 150-200 kilograms per hectare in the autumn winter crop last year to 600-650 kilograms this year.
Adding to the woes, price has dropped to the unprofitable level of VND4,000-4,300 a kilogram.
Mr. Nguyen Van Xiem Nho from Tam Nong district, Dong Thap province says that this year autumn winter rice has seen the lowest ever productivity of less than five tons a hectare. The same crop in the previous years reaped at least 5.5-6 tons.
Reasons for the productivity decrease include unfavorable weather and insects which have rocketed up input costs while selling prices have been too low. 
Farmers in Hau Giang and Kien Giang provinces have concerned about the bad harvest.
Mr. Lam Van Sau from Giong Rieng district, Kien Giang province said that there were no factories in rural areas for locals to apply for a job. Hence, many households have got loans to hire land for rice farming at the price of VND40 million (US$1,794) a hectare a year.
Unexpectedly, they continued facing loss in the autumn winter crop after yielding no profit in the previous  two crops of the year.
Many farmers have fallen into debts and left their hometowns for HCMC to earn their living, according to Mr. Danh Hau, head of Giong Ke hamlet, Binh Giang commune, Hon Dat district, Kien Giang province.
Scientists expressed worry about alluvium shortage because floodwater level has drastically fallen in the Mekong Delta this year. This has also permitted insects and diseases to rage and portended severer drought and salt intrusion to raise difficulties for rice farming.
The Vietnam Food Association has been anxious about difficult rice exports this year.
During the first eight months, export volume reached only 3.37 million tons, turnover US$1.51 billion, down 16.6 percent and 13 percent respectively.
Professor Nguyen Ngoc Tran, former chairman of the NA Foreign Relations Committee, said that Vietnamese rice prices have been reducing in the world market affecting the agricultural industry and resulting in its minus growth rate.
It was time for the industry to find a new heading, he said.
Secretary of the Party Committee in Soc Trang province Nguyen Van The said that Mekong Delta farmers contributed significantly to food security and rice export for the last several years. However not many households have been able to enrich thanks to rice production, which has been tougher because of hash weather condition and salt intrusion.
The province has advised farmers to base on their local conditions to choose rice or other crops such as fruits and shrimp which have yielded much higher profit than rice.
The People's Committee in An Giang province said that rice farming has touched its peak of nearly 3 crops a year and been difficult to increase further.
Hence, it is necessary to consider reducing the grain's farming area and changing into other crops, apply science and technology to raise rice value and profit.
Mr. Nguyen Van Duong, chairman of the Dong Thap province People's Committee said that the traditional method of rice production had had high cost price and put farmers under lot of risks so it should be changed.
In its agricultural structure, the province determines five key lines of products. Rice is one out of the five besides ornamental plants, mango and duck breeding.
The province has also intensified connecting rice farmers with businesses, encouraged the farmers to join cooperatives to reduce costs and improve farming techniques and efficiency.
Deputy Minister of Agriculture and Rural Development Nguyen Xuan Cuong said that because the economic value of rice has not been high, the agricultural industry should change its goal focusing on other profitable products such as fruits and seafood in accordance with the world market's demand and climate change adaptation.