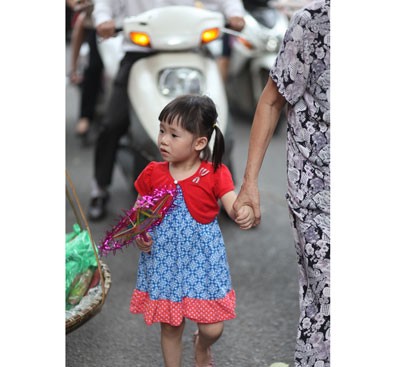 A Hanoian girl crosses Hàng Mã Street holding a star lantern - one of the most popular toys during Tết Trung Thu. - VNS Photo Trương Vi
Vietnamese are celebrating the Mid-autumn Full Moon Festival (Tết Trung Thu) across the country, with lanterns and cultural activities in every street and home today and tomorrow.
The festival features traditional mid-autumn products, folk toymaking, flower arranging and moon cake-making.
During the celebration parents prepare different special foods, such as cupcakes, candies and fruit, including grapefruit, red persimmon, longan, banana, and mango, decorated with symbols of dogs, cats and mice.
Children wear masks, beat drums, perform fantastic lion dances, sing folk songs in yards and on the streets, and hold lantern processions when the moon is rising.