Farmers in the Mekong Delta region are extremely excited with an abundant autumn-winter harvest.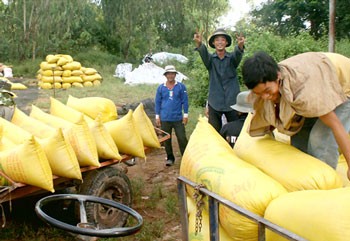 Farmers in Da Phuoc Commune in An Phu Dsitrict, An Giang Province are excited for an autumn-winter abundant harvest. (Photo: Sggp)
To date, 70 percent of 650,000 hectares of rice have been harvested with 5.1 tons per one hectare. Some areas in An Giang, Dong Thap and Can Tho even reached 6-7 tons per one hectare.
Fresh rice is being sold in the farm at VND6,200-6,500 per kg and dry rice at VND7,200-7,600 per kg.
Farmers in Tra Vinh Province have had a bumper crop and selling at a high price of VND7,200-7,300 per kg, said farmer Duong Van Chau in Thanh My Commune in Chau Thanh District.
"I have 14 tons of rice from 2 hectares and earned a profit of nearly VND20-25 million per hectare (around US$2,000). Newly-harvested rice is currently trading at VND6,300 per kg, and dried rice is being sold at VND7,300 per kg", added farmer Nguyen Van Tai in Da Phuoc Commune in An Phu Dsitrict of An Giang Province.
An Giang has cropped 14,000 among 126,000 hectares of rice with an average capacity of 6-7 tons per ha.
According to the Deputy standing chairman of An Giang Province People's Committee, 12,600 hectares of rice fields on the 3rd crop were protected while 5,000 hectares was submerged under flood water. However, the province will harvest about 800,000 tons and earn a net profit of more than VND1, 800 billion.
The Mekong Delta will reach three million tons of rice in the autumn-winter harvest and achieve 22.8 million in 2011, presenting an increase of 1.3 million in comparison with 2010, said Dr Le Van Banh, head of the Mekong Delta Rice Research Institute.
Experts affirmed that the 2011-2012 winter-spring harvest will have many advantages because floods bring in beneficial silt and alluvium to the rice fields. There were not many pestilent insects.

However, they warned the next crop will also face many challenges. Farmers will take a lot of time and spend a lot to pump water from their fields, and improve soil quality for the next crop. In addition, lack of healthy rice seeds will also be a problem.

The region has currently seen 30-40 percent among 200,000 tons of rice seeds for 1.5 million hectares in the winter-spring harvest, said Dr Le Van Banh.