Hanoi leaders have reconsidered an earlier proposal to change office working hours of officials and civil servants, the city Department of Transport said Tuesday.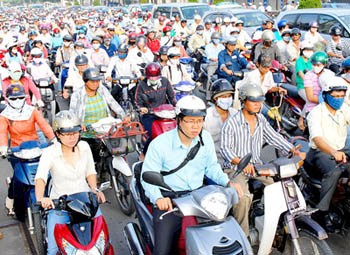 Hanoi reconsiders changing office working hours for public servants (Photo: SGGP)
The proposal was made by the Ministry of Transport to help ease traffic congestion during peak school and office working hours in Hanoi.
However leaders in Hanoi have conflicting opinions and are proposing instead to changing timings of three separate groups of people.
Group 1 included students of universities, colleges and vocational schools who would begin school at 7am and end at 6pm.
Group 2 included commercial centers, service agencies, financial and banking organizations that begin work at 9am and close at 10pm.
Public servants, nursery, primary and secondary schools were listed as Group 3 and usually begin work at 8am and end at 5pm.
Besides, the proposal also suggests that the Department of Education and Training should change school timings of each school and coordinate with the city Police, the Department of Transport and district people's committees to find efficient measures to resolve the traffic congestion around school premises.
Related article:
Ministry offers solutions to ease traffic congestion in rush hour