Super Typhoon Megi, the strongest storm to come along in years, was forecast to enter Vietnam's East Sea on the Monday afternoon, the country's national weather bureau said the same day.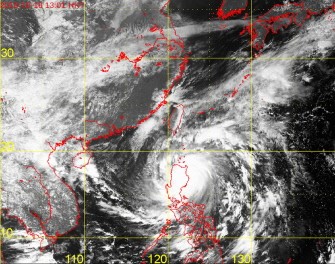 This handout satellite image created on October 18, 2010 and released by the Hong Kong Observatory shows super Typhoon Megi over the northern Philippines demarcated by a superimposed map of the east Asian region. AFP photo
The super typhoon smashed into the northern Philippines on Monday, causing landslides in mountainous areas, whipping up huge waves along the coast and killing at least one person, AFP reported.
Philippine forecasters said Megi was the strongest storm to hit the nation since Typhoon Durian unleashed mudslides that buried entire towns and killed over 1,000 in 2006, and was likely the most powerful in the world this year.
It pummeled remote coastal areas of the northern Philippines with gusts of up to 260 kilometers (160 miles) an hour on Monday morning as it made landfall, tearing roofs off houses and bringing down power lines, AFP said.
Vietnam's national weather bureau says Megi is a complicated storm. The agency says it cannot give exact forecast of the super typhoon's course.
Meanwhile, the death toll from the latest floods caused by heavy rains in central Vietnam rose to 23 on Monday, while more than 150,000 homes were under water, according to sources from the affected provinces of Nghe An, Ha Tinh, Quang Binh and Thua Thien-Hue.
Traffic between the north and south was briefly interrupted as vehicles and trains could not move on National Highway 1A and the North-South rail route.