The Civil Aviation Authority of Viet Nam (CAAV) yesterday issued its decision to ban two passengers from domestic and international flights after they attacked a female employee at Noi Bai Airport in Hanoi on October 18.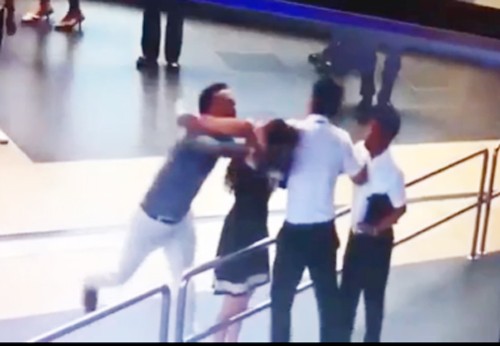 Photo cut from camera in Noi Bai Airport (Photo: SGGP)
The CAVA banned Duong Dinh Tung, 1984, for a year and Dao Vinh Thuan for 6 months from flying at domestic and international flights, saying that the two passengers' behaviors seriously affect aviation security and the ban is to raise public awareness.

On the same day, the Department of Transport in Hanoi sent its document to the transport inspectorate asking to report its staff Dao Vinh Thuan, one of the two disruptive passengers, who assaulted the female employee in the airport. The report must be sent to the department before October 23.

Leaders of transport sector and Vietnam Airlines where the female employee works for also asked the CAVA and Noi Bai Airport Authority to have stern penalty on the two passengers to deter other from similar acts.

As Sai Gon Giai Phong reported, Tran Duong Tung, 32, and Dao Vinh Thuan, 37, two passengers on flight VN7265 from Hanoi to Ho Chi Minh City, assaulted a female employee of Vietnam Airline who was taken to Saint Paul Hospital for medical check-up later.

As per a document sent from the Prime Minister office, the PM urged to report the incident relating to two passengers attacking a female employee on October 18 in Noi Bai Airport. The PM requested chairman of People's Committee in Hanoi and related agencies to probe the case and report to the PM in October.