On August 21, the An Giang Forest Ranger Department disclosed that they had been handed a rare species of one male fishing cat from a local resident in Binh Thanh Commune of Chau Thanh District.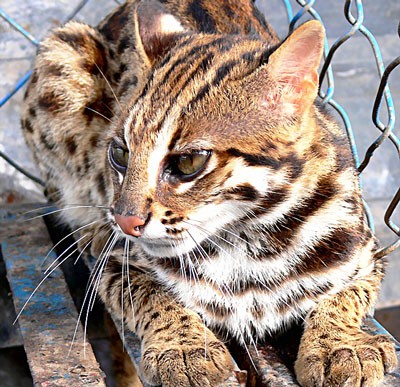 The male fishing cat. (Photo: SGGP)
This particular cat was one of two fishing cats bought by Doan Van Trung, 46, resident of Ba Hoa Islet in Binh Thanh Commune, from a farmer last August for VND1.5 million. During their captivity in Trung's house, the female fishing cat escaped.
Recently, after learning that the fishing cat was a rare and valuable species, Trung decided to hand over the fishing cat to the An Giang Forest Ranger Department.
According to Huynh Mai Sinh, head of the Legal Inspection Office under the An Giang Forest Ranger Department, this particular species of fishing cat is classified as endangered, since they are concentrated primarily in wetland habitats, which are increasingly being degraded and cleared for cultivation.
Since 2011, the department has received three fishing cats from local residents which were all later released into their wild natural habitats in Tra Su Cajuput Forest in Van Giao Commune of Tinh Bien District.