Agricultural production should accord with market demand on quantity, quality and types to protect farmers from the repeated refrain of 'bumper crop, low price', said experts at the Mekong Delta Economic Cooperation Forum opened in Soc Trang Province yesterday.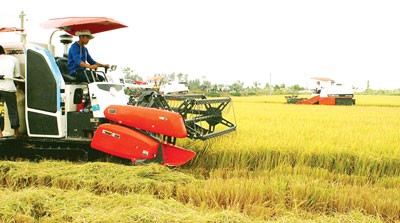 Farmers reap rice with combine harvesters in the Mekong Delta (Photo: SGGP)
Farmers have freely grown any kind of plant they like and been vague about consumption sources. Purchase has almost been conducted by traders who usually manage to pay as low as possible, said Professor Vo Tong Xuan.
That is one of reasons for the 'bumper crop, low price' condition which has kept repeating in the Mekong Detla, he said.
2014 is the third consecutive year that sugarcane prices reduce in the delta. The prices have dropped to only VND750 a kilogram for the last few days. This is because of high inventory level and smuggled sugar, forcing processing plants to lower sugarcane prices to prevent losses.
The problem in agriculture development is market, said Dr. Vo Hung Dung, Chairman of the Vietnam Chamber of Commerce and Industry in Can Tho City.
Market development involves meeting demand of the current market and increasing potential demand for farm production. An increase in demand will cause an increase in agricultural market developmernt, he said.
Agricultural restructuring must change from quantity into value, especially added value, said Minister of Agriculture and Rural Development Cao Duc Phat at the conference.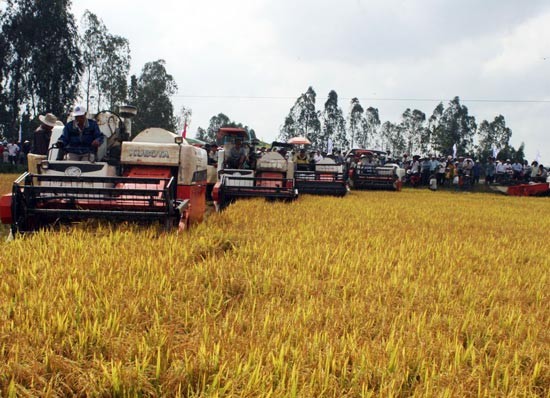 Fragrant rice highly profits farmers in Soc Trang Province (Photo: SGGP)
For a long time, agricultural production has aimed at exports and paid little heed in developing local market, where has been flooded with import products. This is partly due to policies inclining to encourage exports, he pointed out that how the problem is how to increase sustainable income for farmers, not the rank in volume of Vietnamese farm production in the world market.
Agricultural restructuring must begin from developing market, creating conditions for farmers and businesses to apply new varieties as well as technologies in production and improve their product value, said Minister Phat.