The White House Wednesday defended President Barack Obama's decision to make a week-long Pacific trip next week, saying he was out to leverage jobs from a dynamic region to ease economic pain at home.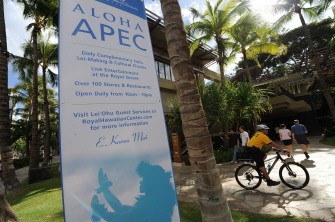 A policeman (R) patrols on a bicycle in the Waikiki beach area past a banner highlighting the Asia-Pacific Economic Cooperation (APEC) summit in Honolulu, Hawaii on November 9, 2011.
Obama's image-makers face a tough task in selling his journey, which begins Friday, as Washington media fixates on domestic concerns including a deficit row with Republicans and the quickening 2012 election.
By hosting an Asia-Pacific Economic Cooperation summit in Hawaii, and visiting Australia and the East Asia summit in Bali, Obama will pursue trade and employment and stand up for US values and security in a region likely to dictate its future, officials said.
Obama will also have a flurry of talks with key foreign leaders from China, Russia, Japan, India and Southeast Asian states on the global economic crisis and key international security issues.
"The president's number one priority is job creation, and our efforts to create American jobs are tied very directly to our engagement in the Asia-Pacific," said Ben Rhodes, a US national security advisor.
"Our trade with APEC nations supports millions of American jobs. Our ability to export is critical again, to our job creation and growth agenda."
"This is a really important opportunity for the president to engage in this dynamic region to create American jobs, secure our interests and stand up for democratic values."
On Saturday, in his home state of Hawaii, Obama will meet Chinese President Hu Jintao, Russian President Dmitry Medvedev and Japanese Prime Minister Yoshihiko Noda.
The meetings will come at key moments in the US showdown with Iran, following a UN report saying the Islamic republic worked on nuclear weapons technology, and efforts to revive nuclear talks with North Korea.
Russia and China are key players in both crises as regional heavyweights and UN Security Council members, and may resist any US efforts to deepen the isolation of both nations.
The president will welcome Pacific Rim leaders to Hawaii for the group's annual summit on Sunday and is keen to lock in progress towards a nine-nation trans-Pacific trade pact.
He will also seek to use the summit to push development of green jobs and environmental concerns and to look to promote regulatory rules that enhance trade and investment.
After APEC, Obama will head to Australia for an overnight stay in Canberra where he will pay homage to 60 years of security ties between the allies, meet Prime Minister Julia Gillard and address parliament.
"Australians are with us in Afghanistan. They've cooperated with us on Iran sanctions. They've cooperated with us on our nuclear security efforts," said Rhodes.
Obama will also become the first US president to travel to Australia's Northern Territory when he lands in Darwin, and is expected to make an announcement on enhanced US-Australian military cooperation in a city seen as a gateway to Southeast Asia.
The president will travel on November 18 to Bali, Indonesia, where he will become the first US president to take part in the East Asia Summit, comprised of the 10-member Association of Southeast Asian Nations, plus China, Australia, India, Japan, South Korea, New Zealand, Russia and the United States.
Obama will also hold his first meetings with Philippine President Benigno Aquino and Thai Prime Minister Yingluck Shinawatra in Bali.