North Korea's leader Kim Jong-Il meets Russian President Dmitry Medvedev in Siberia this week for rare talks expected to focus on energy cooperation, Pyongyang's nuclear programme and hunger in the isolated Communist state.
The Kremlin said the summit will be the highlight of the reclusive Kim's week-long tour of Russia's Far East and Siberia, his second visit to the giant neighbour since 2002.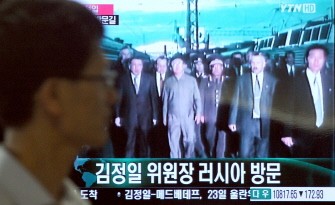 A South Korean walks past by a TV feeding file video footage of North Korean leader Kim Jong-Il's last visit to Russia in 2002 at a train station in Seoul on August 20, 2011
In an apparent nod to Kim's concerns about personal safety, the Kremlin imposed a virtual blanket ban on information about the plans and itinerary of the 69-year-old leader, now travelling across the Trans-Siberian railway aboard his special armoured train.
Medvedev and Kim are widely expected to meet in the eastern Siberian city of Ulan Ude near Lake Baikal in the Buddhist region of Buryatia, 5,550 kilometres (3,450 miles) east of Moscow, possibly on Tuesday.
The summit is bound to go down in history as a major milestone in ties and provides a chance for Moscow to burnish its credentials as a negotiator capable of dealing with so-called pariah regimes.
The talks however will hardly bring any foreign policy breakthroughs or firm economic deals, analysts said.
"The main result of the visit is the very fact of the visit," Konstantin Asmolov, a Korea specialist at the Moscow-based Institute of the Far East, told AFP.
"Everything that Russia and North Korea can discuss now either will fail to break the impasse or concerns various long-term projects," he said.
Kim is expected to seek Moscow's help in trying to start up stalled talks on North Korea's nuclear disarmament amid signs the isolated state is seeking to reach out to the world as it battles food shortages.
Pyongyang stormed out of the six-party negotiations -- grouping the two Koreas, the United States, Japan, China and Russia -- in April 2009 and conducted its second nuclear test a month later, but has expressed a desire to return to the forum.
Asmolov said the two leaders were unlikely to reach any breakthrough in the nuclear talks where much depends on the position of Washington and Seoul, long irritated by Pyongyang's erratic behaviour.
The Kremlin, which says that any opportunity must be seized to engage North Korea in dialogue, is also expected to discuss energy and infrastructure projects involving both Koreas.
They include a long-stalled plan for a trans-Korean railroad, the construction of an electricity transmission line between the two countries and, most importantly, a pipeline carrying Russian gas to South Korea via the North.
Following talks with his South Korean counterpart Kim Sung-Hwan earlier this month, Russian foreign minister Sergei Lavrov said Russian gas giant Gazprom was in "concrete" talks with the energy companies of both Koreas.
"If experts at the corporate level come to an agreement, then political support will be secured in all the three capitals," Lavrov said at the time.
Analysts are skeptical however that a gas pipeline through the divided Korean peninsula is a feasible plan as long as tensions there run high.
"It is a very complicated issue," said Yury Vanin, a Korea specialist at the Moscow-based Institute of Oriental Studies.
"The situation on the Korean peninsula is very complicated," he told AFP.
In a sign that power supplies will figure on the agenda, Kim on Sunday made a stop in the Amur region where he visited the 2,000 megawatt-strong Bureiskaya power station, the largest in the Far East.
Yelena Vishnyakova, a spokeswoman for state-run RusHydro which operates the plant, said her company was not currently holding any talks with North Korea.
Kim is also expected to seek more economic and food aid from the Cold War-era ally amid fears of a hunger crisis.
Moscow said on the eve of Kim's arrival that it was sending up to 50,000 tonnes of wheat to North Korea.
The Stalinist state's ties to Russia date back to the Soviet times, although they cooled after the break-up of the Soviet Union.
This is Kim's third visit to Russia in a decade. He last travelled to Russia in 2002 when he met then president Vladimir Putin in Vladivostok.
In May, Kim visited China, a third visit in just over a year to his country's sole major ally and economic lifeline.