Ho Chi Minh City plans to build nearly 4,700 apartments under social housing schemes, for officials, civil servants, servicemen and low-income groups, but shortage of land impedes the projects.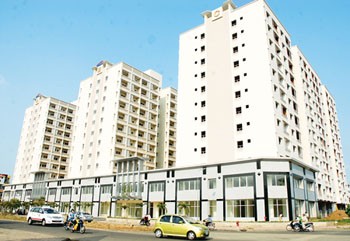 Tan My apartment blocks were built for resettling residents cleared from U Cay Canal in District 7 (Photo: SGGP)
The city Department of Construction said that land for social housing projects can come from three different sources. The first can come from part of the land meant for projects for commercial housing and development of new urban areas. For instance, if a project has an area of over 10 hectares, investors must use 20 percent of the land area for construction of social housing schemes.
Construction of basic infrastructure like electricity, water, roads and drainage systems should not only be done only in their own commercial projects but also in the area demarcated for social housing.
The second source can be from state owned property and the third from places allocated by the city for building of houses for workers.
However, state owned land is limited while the land from projects is also not considerable.
Since 2000, the construction department has approved nine commercial housing projects on areas over 10 hectares each, totaling 204 hectares. Of which over 37 hectares can be let out for social housing. However, so far investors have only delivered less than one hectare.
The construction department said it would propose to the city to apply sanctions on investors not complying.
However, Le Hoang Chau, chairman of the HCMC Real Estate Association said that the housing law doesn't have regulations saying that commercial housing investors must demarcate land for social housing projects. The regulation in the Government's Decree makes no specific rules for this purpose.
The decree has caused much hindrance for businesses in carrying out projects. Many have found a way to evade by asking for less than 10 hectare property, Chau said.
As a result, the construction department has asked the city People's Committee to permit more flexibility in the regulation. For instance, investors can contribute money instead of giving up 20 percent of their land or they can even provide land elsewhere as long as the property value is equivalent to the area they compensate.
The construction department said that if this proposal is approved, social housing schemes can be implemented from the above fund or land given out by construction companies.