Ho Chi Minh City is encouraging public workers and residents to use public buses to reduce traffic jams and air pollution and practice thrift at a time of high inflation.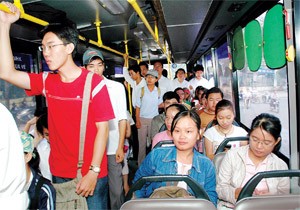 Ho Chi Minh City will launch a mass campaign to encourge people to use public buses (Photo: SGGP)
Addressing a meeting of city authorities yesterday, People's Committee chairman Le Hoang Quan said it is very important to raise public awareness of thrift.
It is also important to improve bus services to persuade people to use them, he said, adding that the Department of Transport should suspend careless bus drivers and ensure the staff serve passengers efficiently and politely.
The number of buses and routes have to be increased to enable 20-25 percent of city residents travel by bus by 2015, he said.
He asked agencies concerned to ensure there are direct services or at least not too many transfers are required to travel between outlying districts and downtown.
"We must make it easy for every citizen to catch a bus," Mr. Quan said.
He also asked the media to monitor bus services and report about problems.
The city is set to launch a traffic safety month in September when it will ask government officials and civil servants to travel only by bus or bicycle.
From next month 100,000 city workers will be asked to travel to work at least once a week by bus or non-engine vehicles.
The campaign would cover all residents by early 2009, authorities said.
The southern metro's 3,500 kilometers of roads are currently overloaded, with 350,000 private cars and more than 3.5 million motorbikes registered in the city.