The HCMC Department of Industry and Trade forecast that the consumption demand of beer and beverage products will increase by 30 percent over normal to reach 40 million and 45 million liters a month near the coming Tet holidays.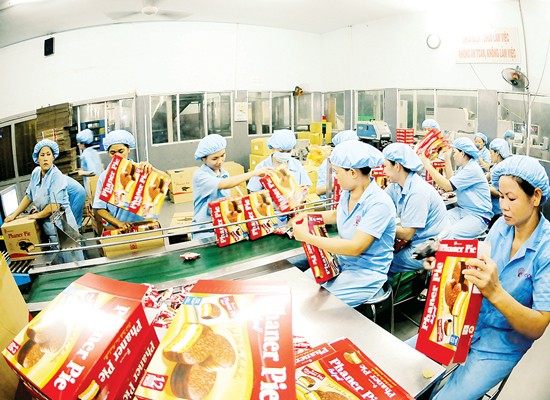 Workers box Tet cakes at Pham Nguyen Company (Photo: SGGP)
Reporting to deputy chairman of the city People's Committee Tran Vinh Tuyen at a meeting yesterday, the department said that cake, jam and candy consumption is expected to approximate 18,000 tons.
Local confectionary companies would supply many new eye catching products with quality equivalent to import items at an output increase of 10-20 percent, it reported.
Deputy director of the department Nguyen Huynh Trang said that solar new year 2017 will come one month before the lunar new year, so purchasing power is expected to highly increase during the month.
According to plan, the volume of necessary items will raise 15-20 percent over the city's target and 25-45 percent over the same period last year.
Goods value that businesses prepare for two months before and after Tet holidays will exceed VND17 trillion (US$762 million), up 5.3 percent over a year back. Of these, subsidized commodities' value will near VND7 trillion ($314 million).
They will focus on preparing items traditionally most consumed in the Tet festival comprising eggs, chicken-pork-beef, sugar, processed food, cooking oil, rice, candy, beverage and clothes.
The department has worked with companies and distributors on the organization of promotional programs to stimulate purchasing demand in the Tet season.
So far, businesses have registered to implement 1,500 promotions in Tet approaching months with a total discount of VND1.2 trillion ($54 million). Those under the city's price subsidization program will also offer big discounts.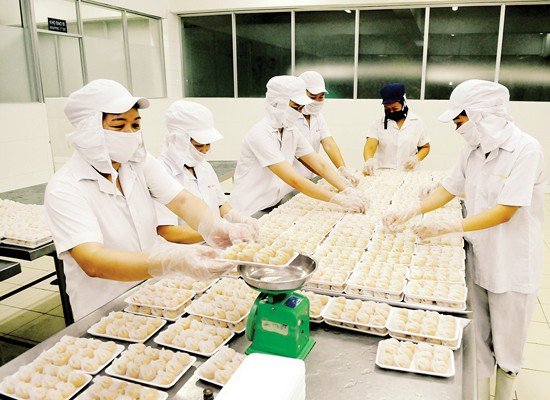 Tet food processing at APT Company (Photo: SGGP)
Deputy Chairman of the city People's Committee Tran Vinh Tuyen prompted authorized agencies and businesses to pay attention to preparations and forecast of goods supply, demand and prices to meet huge consumption demand in the Tet festival.
He instructed them to ensure food safety and hygiene and clear origin for 100 percent of necessary goods supplied in the Tet holiday, organize mobile goods sale trips and promotional programs to citizens in the outskirt, workers and students.
The Department of Industry and Trade should create advantageous conditions for businesses and cooperatives producing clean farm produce to take their goods in the city's distribution system and provide consumers more choices, Mr. Tuyen said.
He prompted the agency to implement a project to apply information technology to determine pork origin.