Quinvaxem vaccine from Korea has been lifted off the market after reports of several allergy reactions in children, said Nguyen Tran Hien, head of the National Institute of Hygiene and Epidemiology (NIHE) and head of National Expanded Program on Immunization.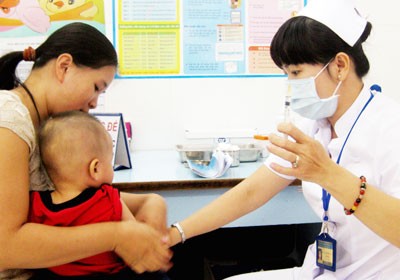 (File photo: SGGP)
The vaccine was being used to fight five deadly children diseases, namely, diphtheria, tetanus, whooping cough, hepatitis B, and Haemophilus influenza type B.
After several fatal deaths and dozens of cases of severe allergy reaction among infants were reported in recent months, families of infected children expressed concern and wanted a switch to substitute vaccines.
Dr. Hien said the Health Ministry has decided to stop the use of the vaccine for now, but is waiting for evidence of the vaccine's safety, though it does not doubt the quality of the vaccine.
Local health experts, the World Health Organization and United Nations Children's Fund (UNICEF) Organization in Vietnam jointly affirmed that the transport, preservation and vaccination procedure of the vaccine had been conducted properly and as per regulations.
Nonetheless, to avoid any risk, the ministry decided to temporarily put on hold the use of the vaccine until WHO confirms test results as safe. Vaccine samples have been sent to an independent laboratory recommended by WHO.
The ministry will decide the continuity of the vaccine by June when WHO presents a detailed report on the vaccine to the Health Ministry.