Vietnam's Ministry of Health organised an online meeting on June 23 with ASEAN member states, the Republic of Korea, Japan and China to share information on coping with the Middle East Respiratory Syndrome-Corona Virus (MERS-CoV).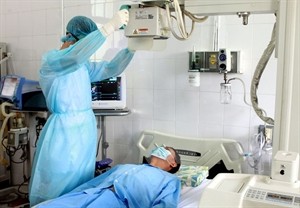 Health workers trained to isolate and treat inspected MERS patient (Photo: VNA)
Vietnam has not had any confirmed cases of the disease but the health ministry is standing ready for any possible occurrences while coordinating with other ASEAN member nations and international organisations to prevent the deadly virus from entering Vietnam.
The same day, the ministry's health examination department held a workshop to complete guidance on MERS-Cov infection prevention.
At a meeting with the press, Deputy Director of the Hanoi Department of Health Hoang Duc Hanh said the capital is urgently enacting measures to prevent any infections.
The International Health Quarantine Centre has designed plans to coordinate with the Noi Bai international airport to keep the outbreak from entering Vietnam.
From June 1 to present, the two sides have supervised 1,230 flights with nearly 160,000 passengers from MERS-affected countries.
Also on June 23, health workers from the Central Highland province of Lam Dong quarantined a female Russian tourist, suspected of carrying MERS, for further observation. The patient is staying in isolation at the Lam Dong General Hospital while her blood sample is tested at the Ho Chi Minh City's Pasteur Institute.
MERS-CoV, first reported in Saudi Arabia in 2012, belongs to a family of corona viruses including SARS, which haunted Asia in 2003.
According to the Preventive Health Department under Vietnam's Ministry of Health, as of June 23, the Republic of Korea had reported 175 cases and 27 fatalities.-VNA