The Ministry of Industry and Trade and the Ministry of Agriculture and Rural Development on June 3 signed a memorandum of understanding to solve difficulties in agricultural and seafood product exports.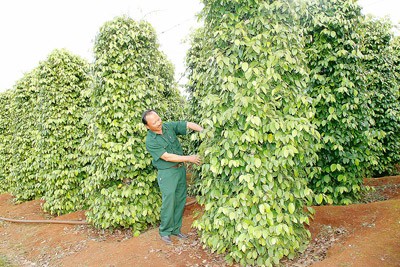 Pepper exports are expected to hit US$1 billion in 2014  (Photo: SGGP)
Agro and aqua export turnover reached US$9 billion year to date, a 13 percent year on year increase, according to the two ministries' estimates.
 
The number accounts for 15 percent of the country's total exports and is expected to reach US$21 billion this year, up 5.8 percent over last year.
 
However, May exports reduced 8.2 percent over April. The most reduction was on tea, rice and cassava.
 
Farmers nationwide have a good harvest of the winter spring rice crop with output increase by 600,000 tons over last year, said Minister of Agriculture and Rural Development Cao Duc Phat.
 
Besides breeding and seafood farming have recovered after a long time of good prices.
 
However export markets have been narrowed which might cause the prices to fall down, he added.
 
Minister of Industry and Trade Vu Huy Hoang said seeking for consumption markets for agro and aqua products was not easy. Several countries have applied protection measures and trade barriers on farm and seafood products that earn most money in Vietnam.
 
China's violation over Vietnam's territorial waters  might affect the exports, he added.
 
The Government as a result has prompted the two ministries to diversify products and expand export markets in order to deal with increasing trade protection in the world.