Chairman of Vietnam Association of Foreign Invested Enterprises Professor Nguyen Mai said that the draft law on supporting small and medium enterprises (SMEs) would be difficult to create a breakthrough in business development with encouraging instead of obligatory regulations.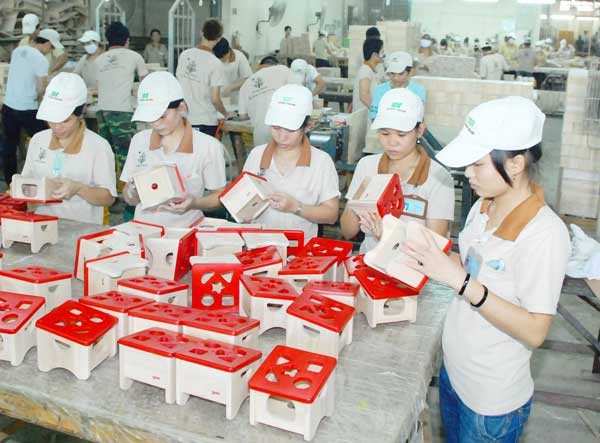 Workers making wooden products for exports at Duc Thanh Company (Photo: SGGP)
According to the professor, the draft law is very important because 97 percent of Vietnamese businesses are small and medium sized.
However existing policies have yet to facilitate their development especially small and super small firms. Two major problems have been tax and credit policies.
A survey by the Enterprise Development Agency under the Ministry of Planning and Investment shows that SMEs' profit did not hike much during the phase of 2011-2014 while budget revenue regularly increased. This means their capital accumulation was not enough to continue growing up.
The Ministry of Finance has submitted to the Government and the National Assembly a draft resolution to support businesses which proposes to reduce corporate income tax to 17 percent.
In fact many businesses have been in unprofitable situation so the policy is unlikely to work, he commented.
The important matter is to cut value added tax to help SMEs raise capital accumulation, a measure that has been implemented in many countries. For instance, Japan reduces the tax by 50 percent for this group of enterprises.
Mr. Mai proposed to build a separate tax system for SMEs so that those to be established in 2016-2020 can double or triple their scales.
Credit regulations in the draft law have already been applied but they have been inaccessible for super small and small enterprises because of strict requirements in mortgages.
At a workshop recently hosted by International Finance Corporation which he was attended, Mr. Mai said many experts kept repeating that banks should permit SMEs to use movables for collaterals besides real estates so that they can reach preferential credit source.
Some credit institutions have declared 1-1.5 percent reduction of loan interest rate, proving their abundant credit supply while small firms have struggled to get loans.
The more easily big companies could access loans, the more difficultly for small ones, the professor said.
He believed that large enterprises to be the main contributor to the total bad debt of VND250 trillion ($11.20 billion), some have fallen in deep debts worth thousand of billion of dong.
It is irrational now as banks seem to give credit priority to large firms in need of big loans, he stated. They have not interested in small enterprises that traditionally need small loans.
Vietnam Bank for Social Policies has provided loans to farmers without mortgages. They just require feasible production and trading plans and farmers have still been able to pay debt and interest.
Therefore, Mr. Mai suggested that the draft law should have compulsory regulations forcing banks to use a certain amount of their credit for small firms. Such regulations have been implemented in many nations including the US and Japan.
Existing regulations in the draft law just encourages banks to do so making it unfeasible and unlikely to create any change or breakthrough compared to current regulations.
Many countries regulate banks to provide 30 percent of their outstanding loans for SMEs.
From the angle of employment, Mr. Mai said that the Government should provide stronger incentives for SMEs to create a better foundation for economic development.
Samsung enjoys the lifetime corporate income tax incentive of 10 percent and provides 130,000 jobs in Vietnam. In the meantime, SMEs create up to 7.5 million jobs.
Obviously current regulations have left SMES stranded between monetary and credit policies.
So the expert reaffirmed his point of view that the draft law on supporting SMEs should have more obligatory regulations to get positive changes.